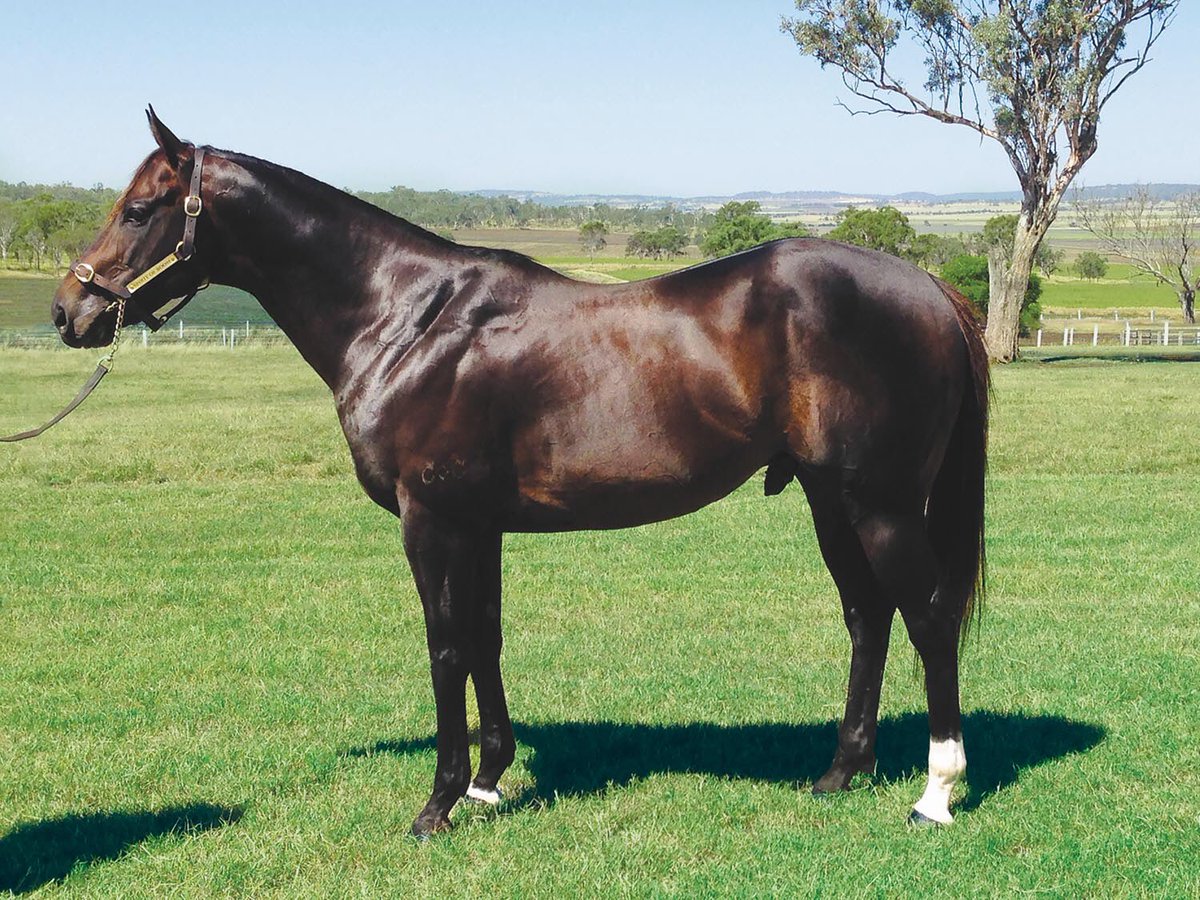 It's hard to name a tougher or more consistent sprinter in recent years that Eureka Stud's dual Gr.1 winner Spirit of Boom. A rare modern representative of the Hyperion male line and line bred to that horse, he looks a very worthy replacement for Semipalatinsk (USA), another Hyperion-line horse who did such a great job for Eureka and the Queensland breeding industry.
Any horse who can finish in the first four in 37 of his 52 starts and stay sound and keep winning as a six year-old to earn $2.4m is certainly worthy of a place at stud. Such is the case with Eureka Stud's dual Gr.1 winner Spirit of Boom whose first yearlings will appear at sales in early 2017.
The outstanding sprinter was first or second in five of his six starts at two and kept winning in the best company for the next four seasons with his victories including the Doomben 10,000-Gr.1 (1350m) and the William Reid Stakes-Gr.1 (1200m). He was also runner-up in the VRC Newmarket-Gr.1, MRC Oakleigh Plate-Gr.1 and BTC Cup-Gr.1 and third in the WATC Winterbottom Stakes-Gr.1 and Oakleigh Plate-Gr.1 in a career that encompassed nine wins, 14 seconds and six thirds against the country's best sprinters. In a tribute to his consistency he was also twice fourth in the BRC Stradbroke-Gr.1 and in the Doomben 10,000 and also fourth in the Winterbottom for trainer Tony Gollan among eight fourth placings.
From a line of tough and very sound sprinters, Spirit of Boom (Sequalo-Temple Spirit by Special Dane) is very much a "chip off the old block" and his nine wins came from 900m-1400m. Spirit of Boom raced six times at two, winning three races, breaking his maiden over 900m at the Gold Coast in a rich Magic Millions Prelude before training on to win the Ken Russell Memorial Classic-LR there in May 2010. He was second next time out in the BRC Champagne Classic-Gr.2 behind Pressday (Buffering third) to end his juvenile season.
Tony Gollan ventured to Sydney for the colt's first start at three when he was fourth in the AJC San Domenico-Gr.3 and he wasn't back in the winner's circle until Australia Day 2011 when he lumped 58kg to win the BRC XXXX Gold Handicap, running the 1200m in a very slick 1:08.71 and scoring by 1.5 lengths. He was second in the BTC Classic-Gr3 behind Falino (Skilled third) later in the season.
Back in action at four he was third in the BRC George Moore Stakes-Gr.3 at his third run back and two runs later took the GCTC Goldmarket-LR (1300m in 1:15.14) and next start landed the $328,000 Magic Millions Cup (1400m in 1:22.0). Later in the season he was runner-up in the BRC Bribie Handicap-LR, fifth of 13 in the BTC Cup-Gr.1 and then fourth in the Doomben 10,000-Gr.1, beaten 2.25 lengths by Sea Siren (his half-brother, Gr.1 winner Temple of Boom, was third) and ended the season with a sixth of 18 in the Stradbroke-Gr.1.
He had a busy season at five with 13 starts, placing second in the VRC Bobbie Lewis-Gr.3, beaten narrowly by We're Gonna Rock first-up, was then fourth in the ATC The Shorts-Gr.2, a narrow second to Fontelina in the VRC Yellowglen-Gr.2, mid-field in the Patinack Classic-Gr.1 and then third in the WATC Winterbottom-Gr.1 behind Barakey in a tight finish. Given three months off, he resumed on February 23, 2013 with a brilliant run in the Oakleigh Plate-Gr.1 when third to Mrs Onassis, was then sixth in the Newmarket-Gr.1 (Shamexpress) and William Reid-Gr.1 (to Black Caviar) before heading back to Queensland and a second in the BRC Victory Stakes-Gr.2 behind Buffering. Three runs in Gr.1 company followed, a sixth in the BTC Cup on a heavy track behind Your Song, a fourth on a dead track in the Doomben 10,000 behind Epaulette, Sea Siren and Buffering and a fourth in the Stradbroke on a dead track behind Linton, beaten 1.1 lengths.
Spirit of Boom was a model of consistency at six and he resumed on September 21, 2013 with a third in The Shorts-Gr.2 in a blanket finish to Sessions, a second in the VRC Gilgai Stakes-Gr.2, three quarters of a length behind Platelet and then a win in the MRC Caulfield Sprint-Gr.2 (1100m), running 1.04.70 on a good track, with Shamal Wind second.
His old rival Fontelina defeated him into second in the VRC Yellowglen-Gr.2 (1200m) next time out and then he again travelled west for a fourth in the Winterbottom-Gr.1, carrying 58kg, to Buffering on November 23. He found sprint super star Lankan Rupee too strong when he resumed in the Oakleigh Plate on February 22, but was far from disgraced in the field of 18, running second to that son of Redoute's Choice who carved out the 1100m in 1:02.72. It was the same story next time out in the Newmarket-Gr.1, with Spirit of Boom again runner-up to Lankan Rupee and Knoydart third (in a similar finish to the Oakleigh Plate). Spirit of Boom had his Gr.1 victory next time out though, carrying 58.5kg, he came with strong run to hit the front close to home and hold out Fontelina's late charge to land the MVRC William Reid (1200m in 1:11.17) on March 21, 2014.
"It's amazing, Spirit of Boom has given us a great ride for a long time," Tony Gollan said after the Gr.1 success. "It is really deserving he won a Gr.1, I'm just so relieved. He was always going to be a stallion and this seals the deal. Eureka Stud and all my clients have been good to me, I was training Class 1 winners in Toowoomba and now I'm training Gr.1 winners at Moonee Valley. It's been a good trip and I wouldn't change a thing."
"I went past the post and actually thought I'd got done," jockey Michael Rodd said. "But it's just a fantastic feeling to win this. I can't really tell you how much this means to me. I've known Tony since I was a little kid, and this horse, we know he's been a bridesmaid for so long and he really deserves this one."
Spirit of Boom was runner-up to half-brother Temple of Boom in the BRC Victory Stakes-Gr.2 on April 26 and then second to Famous Seamus in the BTC Cup-Gr.1 on May 10 before securing his second Gr.1 win on May 24 beating Temple of Boom and Buffering in the BRC Doomben 10,000 (1350m in 1:17.93) after a sensational late charge at the line. His final start came on Jun 7 when fourth behind River Lad, Temple of Boom and Srikandi in the Stradbroke-Gr.1. His 2014 World Thoroughbred Ranking was 115 and he won $2,412,900.
Spirit of Boom's half-neck win over Temple of Boom was a training triumph for Gollan who said, "This is a dream come true. Those two horses have forever changed my life. It's just fantastic, fantastic for the owners and the McAlpine family, who will stand Spirit of Boom at stud. These two horses have taken us everywhere, all over Australia. It's a testament to Spirit of Boom that he was able to win today. He's been a fantastic horse, he keeps turning up and to share this with my wife and all the owners just makes it a very special day."
"He is a boost for Queensland, the industry and breeders. He has the right qualities, two year-old speed, tenacity, and toughness to train on and remain sound. He's an honest horse, by the right sire, we are so happy to keep him in Queensland and return him home to continue our family's 80-year breeding tradition of standing stallions," Eureka Stud's Scott McAlpine said after the second Gr.1 win.
Scott and his father Colin sold Spirit of Boom for $90,000 as a yearling but retained a share in the horse during his racing career. They purchased Spirit of Boom outright after his first Gr.1 success. By wonderful Queensland sire Sequalo, Spirit of Boom is from Temple Spirit, a mare with a great Eureka heritage as she is by the stud's fertility-troubled C.F. Orr Stakes-Gr.1 winner Special Dane (Danehill (USA)-Wing Space by Bletchingly) and from the city winner Temple Top, by another sire great in Semipalatinsk (USA) (Nodouble) who also stood at Eureka and was Queensland's leading sire for many years. Spirit of Boom's dam carries a double of Star Kingdom via his sons Biscay and Noholme.
Trained by Charlie Waymouth in Victoria, Sequalo ran 40 times from age two to six, winning 10 races and placing 13 times for prizemoney of $756,125. He met and defeated this country's best sprinters, including Mahogany, Keltrice, Lady Jakeo, Alannon, Sword, Gold Ace, Hareeba, Sublimate and King Marauding and ran a course record in winning the MVRC A.J. Moir Stakes-Gr.2 (1000m) at Moonee Valley, running a sizzling 56.3 to defeat Alannon by 3.5 lengths with Gr.1 winner Keltrice third. He won his first five starts culminating with a win in the C.S. Hayes Stakes-Gr.3 and his other wins included the Listed Moondah Stakes, Chirnside Stakes-Gr.2 and Linlithgow Stakes-Gr.2 and he was second in a Newmarket Handicap-Gr.1 to Brawny Spirit, third in the Lightning Stakes-Gr.1 and Manikato Stakes-Gr.1 and raced and won every season from age two to six. He was retired to Lyndhurst Stud in 1997 on a fee of $2500 and the 24 year-old was put down on September 25, 2014 due to the infirmities of old age. He had covered two mares that season, both producing live foals.
Jeffrey Kruger recalled how he convinced his father Merrell that Lyndhurst should acquire Sequalo for stallion duties. "I worked at studs in Ireland for two years and every time I opened a newspaper I'd see that Thatching would have sired another winner," Jeffrey said.
"Thatching reminded me a lot of Celestial Dancer, who was a prolific sire of winners off Lyndhurst. When I came back from Ireland I said we should get a Thatching line horse because the horse was such a phenomenal winner getter. I thought the line would provide a good outcross for the Northern Dancer and Star Kingdom lines. Glen Burrows told me Sequalo was being retired from racing and was for sale and as Sequalo's sire Rustic Amber is a son of Thatching, he looked an ideal choice. We syndicated him among 45 shareholders and at the end 40 of those original shareholders were still in the horse. He would not have owed any of them a penny. We started him on a service fee of $2500, and his service fee rose to $16,500."
Sequalo (Rustic Amber (IRE)-Dash Around by Bending Away) was Queensland's Leading First Season Sire in 2000-01 and Champion Sire in Queensland in 2004-05 and the winning distance index of his runners is 1093m. To mid-March he is credited with 688 winners (69.6% of starters) of more than $44m and his 20 stakes winners (2%) also include another Gr.1 winner in Star Shiraz (dam by Semipalatinsk), Gr.2 winners Burdekin Blues (Blue Run), Sequential Charm (Laudham Star) and Gr.3 winner Missy Longstocking (Thunder Gulch). His daughters have produced 109 winners of $4.6m including stakes placed Clover Lane (O'Reilly) and In His Stride (Rothesay).
Sequalo's dam Dash Around won twice at 1000m-1200m in Melbourne, once at two and is by Listed placed Bending Away (USA) (Never Bend-Georgia Peach by Alibhai), a horse who won four races (1100m-1700m) in the US and was in the first three in 15 of his 18 starts before coming to Victoria to stand at Glen Appin Stud, Avenel. His half-sister Fleet Peach was a Gr.2 winner and producer.
Sequalo's next dam La Perdita is a city winner by champion sire Showdown (GB) and produced nine winners including Gosford Gold Cup-Gr.3 winner Mamzelle Perdu (Vite Cheval), nine wins 1400m-2100m, and Listed winner Stellina (Capital Asset (USA)). Sequalo's third dam, the 1100m winner Ballet Belle (Empyrean (GB)-Pineapple Poll by Neopolitan (GB)), is a sister to Coppelius, winner of the Caulfield Guineas, Victoria Derby and Memsie Stakes (sire), and to stakes placed Ballet Dancer. Pineapple Poll's dam Hora (GB) is by Big Game from the Nassau Stakes winner Coppelia (family 1m) by Son-in-Law and her grandam Queen of the Ballet (Royal Realm) is a half-sister to the St James's Palace Stakes winner Carrickfergus and the English St Leger/Coronation Cup/Gold Cup/Eclipse Stakes winner and sire Prince Palatine, both by Persimmon. Hora's descendants also include Golden Slipper-Gr.1 winner Vivarchi (Wilkes (FR)) and other family members include Kenmare (FR) and Export Price (FR).
Sequalo is a rarity these days in that he is a male line descendant of Hyperion, as was Star Kingdom, while his great-grandsire Thatch, a champion sprinter and sire in Europe, should interest all breeders as he is a brother to influential broodmare Special (Forli-Thong by Nantallah), best known for her son Nureyev and grandsons Fairy King, Sadler's Wells and Perugino.
The sire line came to Australia with the importation of smart sprinter Rustic Amber (IRE) (Thatching-Forever Amber by Bold Lad) in 1988 to Victoria. Small in stature, standing 15.2 ½ hands, he won the Greenlands Stakes-Gr.3 (6f) and the Listed Goffs Stakes (5f), both at the Curragh, placed five times from 14 starts and was Irish Champion Three Year-Old Sprinter of 1986. He did a very good job at stud, leaving "another little'un with the heart of a lion" in $1m earner Brawny Spirit (Without Fear), whose wins included the Newmarket-Gr.1 and Salinger-Gr.1, Rustic Dream (Naskra), winner of the Futurity Stakes-Gr.1 and Marstic (Marscay), winner of the Goodwood Handicap-Gr.1 among his seven stakes winners. He was 19 when he died in 2002 and his stud record shows 287 winners (64% of starters) of more than $15m (winning distance index 1197m), a very good record considering his modest fee and the class of mare sent to him.
Spirit of Boom has a particularly interesting pedigree as he is inbred 4mx5f to Thatch, through a son Thatching (sire of Rustic Amber) and daughter Republican Gal (IRE)), Spirit of Boom's fourth dam.
Thatch (Forli-Thong by Nantallah) was bred at Claiborne Farm in Kentucky in 1970 and was trained in Ireland by the great Vincent O'Brien to become a wonderful two year-old and then sprinter-miler in Ireland/England winning the Sussex Stakes-Gr.1, St James's Palace Stakes and July Cup at three. His sire Forli (Aristophanes-Trevisa by Advocate), a horse inbred 4fx4m to Lady Juror via daughter Riot and son Fair Trial, was a great champion in his native Argentina where he was undefeated and Horse of the Year at three and then came to the US where he won the Coronado Stakes and set a new course record for 8.5f at Hollywood Park (1:41.1) as well as an exhibition victory before being injured when second at his third US start in the Citation Handicap, retiring to Claiborne Farm as the winner of nine of his 10 starts. He left more than 60SW including Horse of the Year Forego and sires Posse, Home Guard and Intrepid Hero, but his line continues today through Thatch.
Aristophanes (Hyperion-Commotion by Mieuxce) raced for four seasons in England and was a smart performer winning the Doncaster handicap (twice), Arlington Stakes, Scarborough Stakes and finishing second in the Jersey Stakes and was sent to Argentina in 1953, becoming Leading Sire there in 1960. Hyperion (Gainsborough-Selene by Chaucer), winner of the Dewhurst at two and English Derby at three was Leading Sire in the UK six times between 1940 and 1954 and also Leading Sire of Broodmares four times.
When he died in 1960 at the age of 30 the diminutive chestnut with the four white feet was a dominant force in world pedigrees and his sire line was going strong, especially in Australia via his grandson Star Kingdom (whose line continues via Show a Heart), sire of the first five Golden Slipper winners. Today the male line hangs by a thread, although Hyperion's influence has not disappeared and he is often duplicated many times in pedigrees. His dam Selene was also dam of noted stallions Pharamond and Sickle, by Phalaris, who established still-active sire lines in the US, the former via Tom Fool (Lunchtime in Australia) and latter via Native Dancer (and his grandson Mr. Prospector).
Vincent O'Brien's success with Thatch meant he took a keen interest in the family descending from Yorkshire Oaks winner Dalmary (Blandford-Simon's Shoes by Simon Square), third dam of Thatch. When the sprinter retired to stud, O'Brien, who was also a successful breeder, sent his mare Abella (Abernant-Darrica by Darius), whose fourth dam was Dalmary, to the horse and the result was Thatching, who carried Dalmary 4fx5f via her daughters Rough Shod (Gold Bridge) and Jennydang (Colombo). Thatching's pedigree was even more interesting as Thong's grandsire Nasrullah and Abella's sire Abernant were grandsons of Mumtaz Mahal (The Tetrarch-Lady Josephine by Sundridge), whose half-sister Lady Juror figures so strongly in the pedigree of Forli.
Thatching broke a bone in a hind foot at two and appeared for the first time as an October three year-old in 1978, placing twice before breaking through for a win over 9f. Racing for Robert Sangster he was kept strictly to sprinting at four after failing at 7f at his first start of the season. He won the Duke of York Stakes-Gr.3 at York and was then fourth in the Temple Stakes before being tried with blinkers. He was never headed in the Cork and Orrey Stakes-Gr.3 at Ascot, winning by four lengths, and then at Newmarket he led throughout in the July Cup-Gr.1 to score by five lengths. The mile of the Sussex Stakes proved too far and then he won the Sprint Championship-Gr.2 at York by 2.5 lengths but was disqualified and placed last behind Ahonoora for drifting across the course. Thatching retired after an unplaced run in the Prix de l'Abbaye-Gr.1.
Thatching's best runners included Wiganthorpe, Puissance (sire of Mind Games), Tirol and Shalford. The latter two shuttled briefly as did Mind Games, while Wiganthorpe was a disappointment here. It was left to sons Archway (IRE) (ex Rose of Jericho by Alleged), whose 17SW included Gr.1 winners Grand Archway, She's Archie, Tales of Triomphe and Roman Arch and Rustic Amber (IRE) (ex Forever Amber by Bold Lad) to fly the flag here.
Spirit of Boom's dam Temple Spirit is by the Orr Stakes-Gr.1 and Sandown Guineas-Gr.2 winner Special Dane (Danehill (USA)-Wing Space by Bletchingly), who left just 150 foals in seven seasons because of fertility issues. A smart mare who won eight races up to 1200m and was Listed placed, Temple Spirit was a very good broodmare as she is also the dam of Gr.1 winner Temple of Boom (Piccolo (GB)), a gelding who has won 11 races to 1200m and $1.96m including the AJC The Galaxy-Gr.1 (1200m). She died in 2010, leaving just four foals, her final two Gentle Spirit (Break The Vault) and Just The Spirit (Red Dazzler) are fillies. Next dam Temple Top won twice at two and left eight winners for Eureka Stud and is by their great sire Semipalatinsk, a son of Champion US Handicapper and US Leading Sire of 1981 Nodouble (by Star Kingdom's son Noholme).
Next dam Temple Black is an unraced daughter of Lindsay Park's terrific sire Without Fear (FR) (Baldric) and the imported Republican Gal (IRE) (Thatch-Happy II by Rockefella) and was bred by the late Robert Sangster. Happy II is a half-sister to the Queen Mary Stakes winner Weeber (Panorama). Spirit of Boom's 11th dam Rhetoric (Cyllene-Gas by Ayreshire) is a sister to the 1905 English Derby winner Cicero, while Gas (Ayrshire) is a half-sister to the English classic winners Ladas (Derby) and Chelandry (1000 Guineas). This is family 1l.
It is fitting Robert Sangster plays a part in this story as he bred and raced Sadler's Wells, perhaps the greatest of the descendants of Dalmary. A Gr.1 winner and then super sire at Coolmore, where he was 14 times Champion Sire in the UK/Ireland, Sadler's Wells (Northern Dancer-Fairy Bridge by Bold Reason) is a grandson of the mare Special, a sister to Thatch. Mares carrying the blood of this sire of more than 80 Gr.1 winners look appealing for Spirit of Boom, as do mares descending from his brother Fairy King (USA) (sire of Encosta de Lago) and three quarter brother Perugino (sire of Testa Rossa, whose daughters should really suit). Other family members include Geiger Counter, Yeats, Northern Meteor (fifth dam Dalmary) and of course Nureyev (Northern Dancer-Special by Forli).