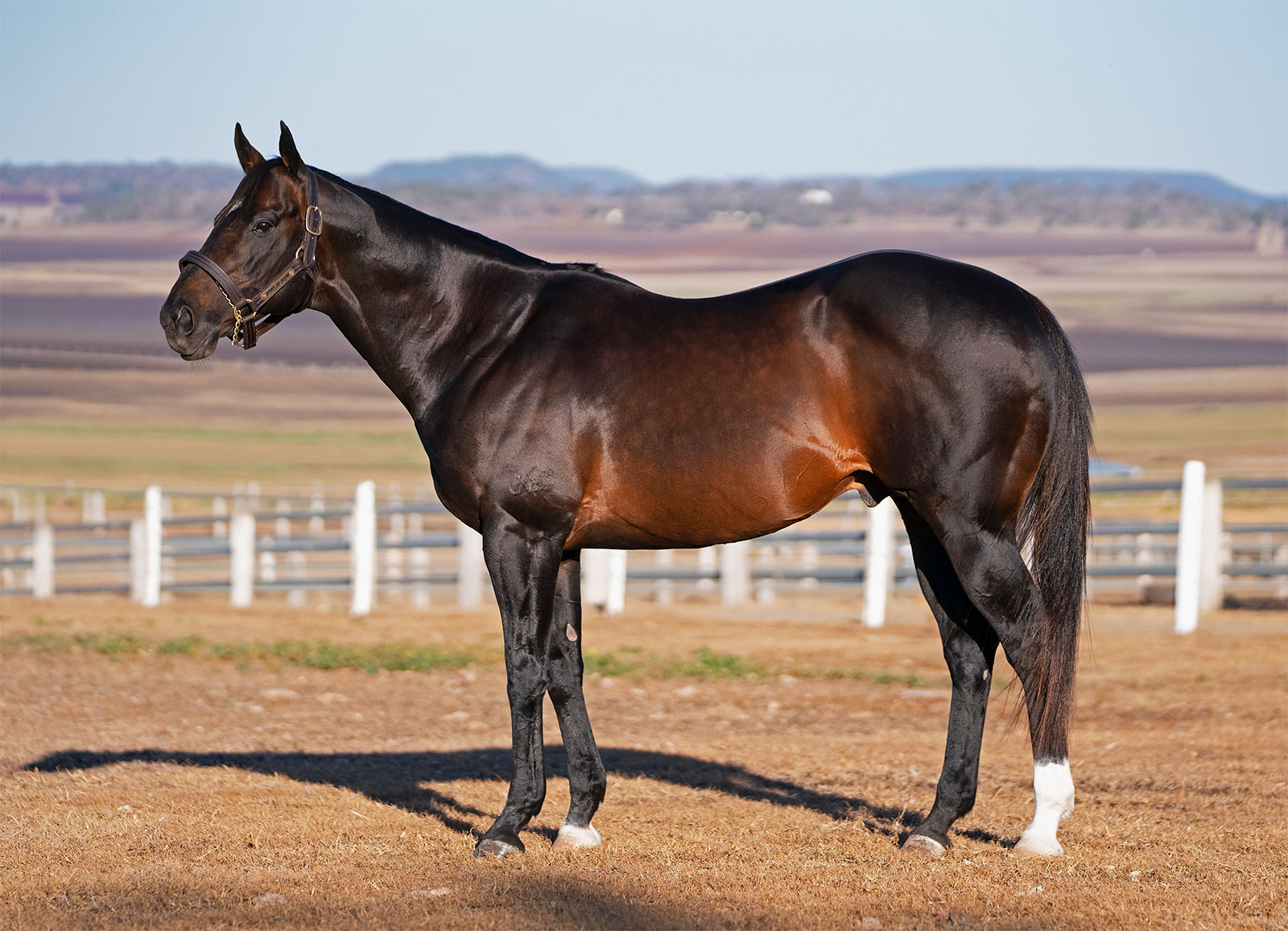 ---
FEATURE VIDEO
2019 Stallion Parade
SPIRIT OF BOOM - Leading First Season sire by 2yo Winners 2017-18 Season.
Spirit Of Boom commenced his stud career with a huge Boom, producing 19 individual winners making him Australias Leading First Season Sire by winners.
He produced 5 stakes winners in his Australian first crop of 2yo's, which is more than any first season sire since Champion Sire Exceed and Excel in 2008.
Spirit of Boom has stamped himself as a successfull stallion with: • The ability to produce an above average amount of stakeswinning 2yo's • Potency to produce great sales types (averaged $160,000 at yearling sales in 2018) • His versatility to breed to Danehill line mares (Stakes winners Ef Troop and Jonker out of granddaughters of Danehill) • Being crowned Champion Queensland Sire after only 2 crops to race
First Crop 17/18 season - 55 runners for 19 individual winners, (29 wins), 5 individual stakes winners with progeny earnings over $1.9 million (stats Arion to 1/7/2018).
BOOMSARA (g ex Passara by Tsuimai), won $1,604,000 inc Group 3 BRC Vo Rogue, GCTC $2Million Magic Millions 3yo Guineas GCTC QTIS Jewel, 2nd Group 3 GCTC Ken Russell, 3rd Group 2 BRC Sires Produce Stakes, 3rd Group 3 BTC George Moore Stakes.
EF TROOP (g ex Limelicious by Exceed and Excel), won $544,000 inc BRC Listed Phelan Ready Stakes, SAJC Christmas Stakes, 2nd Group 2 ATC Todman Stakes, 4th GCTC Magic Millions 2yo Classic.
OUTBACK BARBIE (f ex Pure Purrfection by General Nediym), won $1,381,000 inc Listed BRC Calaway Gal Stakes, Listed BRC Mode Stakes, Listed Keith Noud Stakes, 2nd Group 2 ATC Silver Shadow Stakes, 3rd GCTC Magic Millions 2yo Classic, Group 2 ATC Percy Sykes Stakes, $2 Millions Magic Millions 3yo Guineas, Group 3 BTC George Moore Stakes
JONKER (c ex Hearts and Arrows by Kempinsky) won $537,000 inc Listed Wyong Magic Millions, 2nd Group 2 ATC Arrowfield Stakes, 3rd Group 2 BRC Victory Stakes, 3rd Group 2 ATC Run To The Rose.
KINKY BOOM (f ex Kinka Rhode by Encosta de Lago) won $167,000 inc Listed MRC Inglis Premier Stakes (1000m).
HEAVENS DEAL (f ex Done Deal by Good Journey), won $180,000 inc the Listed SAJC Queen Adelaide Stakes (1050m).
CHAMPAGNE BOOM (f ex Lucky Toss by Dash For Cash), won the Listed MRC Inglis Debutant Stakes (1000m).
SPIRIT'S AUBEER (g ex Friendly Glow by Iglesia), won the Group 3 ARC Bonecrusher Stakes (1000m).
PERUDO (g ex Goodlookin Gambler by Johannesburg), won $186,000 inc BTC Bill Carter Stakes Listed
SUGAR BOOM (g ex Acupuncture by Pins), won 4 races $247,000 inc BTC Mode Plate Listed
FRANGIPANI MOON (g ex Equality by Conatus), won 3 races $131,500 inc BTC Just Now Stakes Listed
Spirits Choice (f ex Deb's Choice by Snippetson), 8 wins $311,000 inc 3rd Listed SCTC Oxlade Stakes, 3rd Listed Mick Dittman Plate
Jami Lady (f ex Bevico Girl by Easy Rocking), 3 wins inc 2nd BRC Mode Stakes Listed.
Bribery (f ex Hold For Ransom by Oratorio), 1 win inc 3rd Listed SAJC Cinderella Stakes, 3rd Magic Millions Adelaide 2YO Classic.
Boomstress (f ex Pegasus Miss by More Than Ready), 1 win inc 2nd Listed BRC Calaway Gal Stakes.
Boom Daddy (f ex Daddy's Little Girl by General Nediym), 2yo winner and 3rd Listed VRC Maribyrnong Trial
Dual Group 1 winning Sprinter and Stakes winning 2YO.
Spirit of Boom possessed speed, stamina and acceleration to win twice at Gr 1 level, the BRC Doomben 10,000 (1350m) and the MVRC William Reid Stakes (1200m).  He was a fast and forward 3 x 2yo winner, including a debut 2nd in the BRC Phelan Ready Stakes and then a 7 length win in the GCTC Magic Millions 2YO Classic Prelude. He was subsequently installed as equal favourite in the $2 Million Dollar Magic Millions 2YO Classic were he encountered terrible mid race interference. He then went on as a 2yo to win the Listed GCTC Ken Russell Memorial Classic (now a Group 3) and place 2nd in the Group 2 BRC Champagne Classic (beating BUFFERING).
Tough and sound, he ran 52 times amongst the best company in Sydney, Melbourne, Brisbane and Perth, competing to place top 3 in 19 x Group races, including five Gr 1's - VRC Newmarket (2nd to Lankan Rupee), MRC Oakleigh Plate twice (2nd to Lankan Rupee) and the WATC Winterbottom Stakes, BRC BTC Cup.
A real Queenslander, he was Eureka-bred, reared, and raced, and now returns to Eureka to stand. He also carries Eureka's successful Semipalatinsk broodmare sire line. He has the right qualities for Queensland, 2yo speed, tenacity, and toughness with class and consistency.
Having the perfect temperament to train on and remain sound, his "never give up attitude" saw him race for a total of nine wins, 20 placings and prizemoney totalling $2,412,900.
SEQUALO (AUS) (Bay 1990-Stud 1997). 10 wins-3 at 2, MVRC AJ Moir S., Gr.2. Sire of 922 rnrs, 622 wnrs, 18 SW, inc. Spirit of Boom (MVRC William Reid S., Gr.1), Star Shiraz, Burdekin Blues, Sequential Charm, Missy Longstocking, Show Biz Kid, Cariad, Tierqualo, Wolfe Dreams, Bold Glance, Caliente, Magic Cat, Secrets Untold, Sequallan, Sequestrate, Shysu, Holding, Royal Shiraz, SP Seconde, Reilly Blue, Seek and Find, Penang Wonder, Steel Lips, etc.
1st Dam
Temple Spirit, by Special Dane. 8 wins-1 at 2-1000 to 1200m, $136,425, Qld Tatt's RC Tattersalls Classic, BTC Skyy Platinum H., Bottlemart H., 2d BTC Richmond Grove H., QTC Lady Lustre H., Gunsynd H., 3d BTC Golden Garter H., L. Dam of 4 foals, all raced, 2 winners, inc:-
TEMPLE OF BOOM (g by Piccolo (GB)) 11 wins-2 at 2-900 to 1200m, $1,422,745, to 2013-14, ATC Galaxy H., Gr 1, VRC Gilgai S., Gr 2, BRC Victory S., Gr 2, VRC Aurie's Star H., Gr 3, Swisse Vitamins Century S., L, BRC AHS Netball H., Pilates on Collingwood Mick Dittman P., QTC GPH Express H., GCTC Magic Millions 2YO Prelude P., Magic Millions Sprint H., BRC Blackwater Quarries & Concrete P., 2d VRC Aurie's Star H., Gr 3, Bobbie Lewis H., Gr 3, Gold Coast Guineas, Gr 3, BRC Hakfoort Hotel Group H., BTC Rubicon Design & Construction P., Qld Tatt's RC Hardy Brothers Jewellers H., 3d BRC Doomben Ten Thousand S., Gr 1, VRC Seppelt Salinger S., Gr 2, BTC Golden S., L, BRC Coke Zero H., QTC Copperama 2YO H., GCTC Coastal Tipper Hire H., 4th BRC Lightning H., L.
SPIRIT OF BOOM (c by Sequalo) 8 wins. See below. Just the Spirit (f by Red Dazzler) Placed in 2013-14.
2nd Dam TEMPLE TOP, by Semipalatinsk (USA). 2 wins at 2 at 1200, 1350m, BATC Showdown H., Vaguely Noble H., 2d BATC QBBS Doomben Breeders Classic S., Gold Coast H., 3d BATC ABC TV Quality S.H., QTC Manson H., Windsor H. Dam of 12 foals, 10 to race, 8 winners, inc:- Temple Spirit (f Special Dane) 8 wins. See above. Raise a Shout. 9 wins-1 at 2-1000 to 2200m, $106,000, BTC Super Impose H., QTC Nudgee Old Boys H., BTC Biscay H., QTC Samei Boy H., Tristina H., Four 'n Twenty H., 2d QTC Nightowl H. The King of Honour. Winner at 1650m, $143,565, HKJC Tulip H., 2d HKJC Yuk Sau H., Yat Sin H. Ponche Soto. 4 wins 1207 to 1400m, 3d BRC Mimiki Foundation H. Danepeto. 2 wins at 1800m. Temple Dance. 2 wins at 1000, 1100m. Lion's Temple. Winner at 950m. Stanzaway. Winner at 2 at 1000m. Piccolo Music. Unraced. Dam of- Cizen Pure. 2 wins at 1300m in 2013 in Malaysia, 3d Penang TC Malaysia 3YO Championship Heat 2.
3rd Dam TEMPLE BLACK, by Without Fear (Fr). Unraced. Dam of 8 named foals, all raced, 7 winners, inc:- Singular. 4 wins-1 at 2-1400 to 1866m, QTC Kapyong H., 2d QTC Kingston Improvers H., Poinciana Intermediate H., Brookfield Equestrian Novice H., 3d BATC Central and Northern H., QTC Gold Wing H., Kokoda H., STC Our Lady of Consolation H. Temple Top. 2 wins. See above. Temple Chimes. Winner at 1350m, BATC CIG Welding Gases H., 2d BATC Our Cavalier H. Dam of 4 winners- Fair Pay. 7 wins 1000 to 1300m, QTC City Rowers H., 2d QTC Trentham H., BTC Inghams H., 3d QTC Queensland Apprenticeship Services H., Longreach H. Arion. 6 wins 1000 to 1200m. Producer. Strike Forever. 5 wins at 1800m. Temple of Faith. 3 wins-1 at 2-at 1000m, 2d QTC Brisbane Underground Improvers' H. Dam of 3 winners- Temple Jack. 9 wins 1200 to 1610m, $124,160, 2d BTC Richmond Grove H., QTC Mater Hospital H., 3d Mackay TC Newmarket H. Temple Sparks. Winner at 1350m.
4th Dam REPUBLICAN GAL (IRE), by Thatch. Unraced. Half-sister to Rheinsparkle. Dam of 7 named foals, 4 to race,3 winners, inc:-Total Concept. 9 wins 1200 to 1500m, SAJC London H., Forextra H., Weatherly H., Te Rapa H., Gunsynd Welter H., Boral Cyclone H., 4th SAJC South Australian S., Gr 3.
5th Dam Happy, by Rockefella. Winner at 2600m, Deauville Prix Circle, 3d Deauville Prix de Pomone. Half-sister toWEEBER, AMICABLE (dam of EXAMPLE, EXPANSIVE, AMPHORA), Hedonist. Dam of 5 foals, 3 to race,all winners, inc:- Rheinsparkle (f Rheingold) 3 wins-1 at 2-7f to 13f, Epsom Rubbing House S., 3d Haydock Lancashire Oaks,Gr 3, Lingfield Oaks Trial S., Gr 3. Producer.
Race Record: 49 Starts 8-13-6 A$1,870,300. Won MVRC William Reid S., Gr 1 (1200m), MRC Caulfield Sprint H., Gr 2 (1100m), GCTC Ken Russell Memorial Classic, L (1200m), Goldmarket H., L (1300m), BRC OLHC Family & Friends 2YO H. (1000m), XXXX Gold H. (1200m), GCTC Magic Millions Cup (1400m), Magic Millions 2YO Prelude (900m), 2nd VRC Newmarket H., Gr 1, MRC Oakleigh P., Gr 1, BRC Victory S., Gr 2, Victory S., Gr 2, Champagne Classic,Gr 2, VRC Yellowglen S., Gr 2, Yellowglen S., Gr 2, Gilgai S., Gr 2, BRC BTC Classic, Gr 3, VRC Bobbie Lewis H., Gr 3, BRC Phelan Ready S., L, Bribie H., L, Qld Tatt's RC Hardy Brothers Jewellers H., 3rd MRC Oakleigh P., Gr 1, WATC Winterbottom S., Gr 1, ATC Shorts H., Gr 2, VRC Gilgai S., Gr 2, BRC George Moore S., Gr 3, Mick Dittman P., 4th BRC Stradbroke H., Gr 1, Doomben Ten Thousand S., Gr 1, Doomben Ten Thousand S., Gr 1, WATC Winterbottom S., Gr 1, ATC Shorts H., Gr 2, AJC San Domenico S., Gr 3, BRC Gold Edition P., L
Brief Race Record for
SPIRIT OF BOOM (AUS) 2007 Bay colt by Sequalo - Temple Spirit, by Special Dane
(in Australia)
| | | | | | |
| --- | --- | --- | --- | --- | --- |
| Age | Runs | 1st | 2nd | 3rd | Earnings |
| 2 | 6 | 3 | 2 | - | A$249,400 |
| 3 | 11 | 1 | 2 | 1 | A$116,750 |
| 4 | 10 | 2 | 1 | 1 | A$365,750 |
| 5 | 13 | - | 3 | 3 | A$340,800 |
| 6 | 10 | 2 | 6 | 1 | A$797,600 |
| Totals: | 52 | 9 | 14 | 6 | A$2,412,900 |
| | |
| --- | --- |
| At 2 : | GCTC Ken Russell Memorial Classic, L (1200m beating Adebisi and Jypsiere), BRC OLHC Family & Friends 2YO H. (1000m), GCTC Magic Millions 2YO Prelude (900m), 2d BRC Champagne Classic, Gr.2 (1200m to Pressday and beating Buffering), Phelan Ready S., L (1000m to Jantzen and beating Ghostnthedarkness) |
| At 3 : | BRC XXXX Gold H. (1200m), 2d BRC BTC Classic, Gr.3 (1350m to Falino and beating Skilled), 4th AJC San Domenico S., Gr.3 (1000m), BRC Gold Edition P., L (1200m) |
| At 4 : | GCTC Goldmarket H., L (1300m beating Dual Chamber and Geared Up), Magic Millions Cup (1400m), 2d BRC Bribie H., L (1100m to Adebisi and beating Latin News), 3d BRC George Moore S., Gr.3 (1200m to Adebisi and Latin News), 4th BRC Doomben Ten Thousand S., Gr.1 (1350m) |
| At 5 : | 2d VRC Yellowglen S., Gr.2 (1200m to Fontelina and beating Tiger Tees), BRC Victory S., Gr.2(1200m to Buffering and beating Albrecht), VRC Bobbie Lewis H., Gr.3 (1200m to We're Gonna Rock and beating Title), 3d MRC Oakleigh P., Gr.1 (1100m to Mrs Onassis and Facile Tigre), WATC Winterbottom S., Gr.1 (1200m to Barakey and Power Princess), VRC Gilgai S., Gr.2(1200m to Hallowell Belle and King's Rose), 4th BRC Doomben Ten Thousand S., Gr.1 (1350m), Stradbroke H., Gr.1 (1400m), ATC (Randwick) Shorts H., Gr.2 (1200m) |
| At 6 : | BRC Doomben 10,000 Gr 1 (1350m beating Temple of Boom and Buffering), MVRC William Reid S., Gr.1 (1200m beating Fontelina and Unpretentious), MRC Caulfield Sprint H., Gr.2 (1100m beating Shamal Wind and Ready to Rip), 2d VRC Newmarket H., Gr.1 (1200m to Lankan Rupee and beating Knoydart), MRC Oakleigh P., Gr.1 (1100m to Lankan Rupee and beating Knoydart), BRC BTC Cup Gr. 1 VRC Yellowglen S., Gr.2 (1200m to Fontelina and beating Rarefied), Gilgai S., Gr.2 (1200m to Platelet and beating Steps in Time), BRC Victory S., Gr.2 (1200m to Temple of Boom and beating Snitzerland), 3d ATC (Randwick) Shorts H., Gr.2 (1100m to Sessions and Aeronautical), 4th WATC Winterbottom S., Gr.1 (1200m) |
SPIRIT OF BOOM
Group 1 Doomben 10,000
SPIRIT OF BOOM
Group 1 William Reid Stakes