The 2021 Magic Millions Yearling Sale will usher in the beginning of a new era for Queensland's sire sensation Spirit of Boom, with this crop of yearlings his first bred from a higher fee of $55,000 resulting in a premium selection of youngsters.
Spirit of Boom has been standing at Eureka Stud for the past four seasons at a fee of $11,000, so the rise in fee was a steep one that led to a sharp increase in the quality of mares covered.
"I can't think of another stallion that has had such a dramatic season to season rise in fee and mare quality," said Harry McAlpine.
"He covered his biggest ever book of mares in 2018 and this crop of yearlings are quite clearly on a different level in terms of pedigree.
"Spirit of Boom has always produced a great type, which we have seen from the start, but now we are seeing the attractive pedigree page to match the athletic individuals we know he can deliver."
The current General Australian Sires List is dominated by stallions such as Written Tycoon, Not a Single Doubt and I Am Invincible, who all started their stud careers at very modest fees and have gone on to achieve lasting success.
Eureka Stud see the similarities between that much lauded trio and Spirit of Boom, who compares most favourably with them at a similar stage in their careers.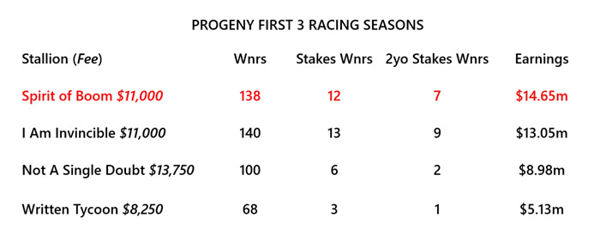 "Of the stakes winners he has produced so far, nine out of the 12 have come off Eureka which supported him with most of his better mares early on, including Pure Purrfection the dam of Outback Barbie, who was the best of those," said Harry McAlpine..
"To further demonstrate his achievements, only six dams from his first crop had previously thrown stakes winners and their average age was 15 years old when they produced, yet that first crop has so far yielded nine individual stakes winners which are now 5yo's.
"We firmly believe that the better quality of mare will continue to convert into more elite produce."
Currently the leading fourth season sire by winners – ahead of his celebrated peers Zoustar, Dundeel, Epaulette and Shamus Award – Spirit of Boom is poised to power ahead as his better bred progeny hit racetracks next season.
"Bigger books of better quality mares undoubtedly changed the fortunes of Written Tycoon and Not a Single Doubt with the majority of their better Group I winners coming out of those later books," McAlpine pointed out.
"We believe Spirit of Boom has the potential to follow in their footsteps and his yearlings at the Gold Coast in 2021 promise to be the beginning of new era for him."
Spirit of Boom has 47 yearlings catalogued over Book 1 and 2 with every yearling bred from a mare with Black Type performers in her immediate family.
His Magic Millions yearlings include: half-brother to this season's Group III VRC Maribyrnong Plate winner Finance Tycoon; half-sister to Group I winner Lasqueti Spirit; half-brother to Group III winner Native Soldier from Group II winner Belong to Many; half-sister to stakes-winner Eawase from Group III winner and Magic Millions 2YO Classic winner Karuta Queen; half-brother to Group III winner Eptimum; full brother to Group III winner Boomsara; half-sister to stakes-winner Peacock; full brother to stakes-winner Champagne Boom; colt from Group II winner Miss Pelear; filly from Group III winner Lyuba; filly from Group III winner Sugar Babe; filly from Group III winner Neena Rock; colt from G1 placed stakes-winner No Looking Back; colt from stakes-winner Palazzo Pubblico; colt from a half-sister to 2020 Group I VRC Oaks winner Personal; colt from stakes-winner Tiyatrolani; and a colt from stakes-winner Pravana.
Fans of Spirit of Boom will be delighted to see the quantity and quality of his Gold Coast stock and for those who are looking to test the waters, 2021 is the year to take the plunge!
ARTICLE: BREEDNET